Hello Book Lovers!
Happy Valentine's Day! 💙 I love Valentine's Day and all the romantic feelings it has to offer. I love cuddling up to my partner and reading a romance because, of course I'm going to be reading.
Whether it's young adult or new adult I want to read all the romances!
However, as much as I love romance I hate that sometimes as a genre is gets a bad rep. People will dismiss romance because it's full of tropes. While I do love hard hitting contemporaries about serious topics I, also, equally love steamy romances. In my day to day life I feel like I can't talk about romances without other people judging me. I still do talk about them, but I can feel other peoples judgement filled eyes on me. I shouldn't be made to feel ashamed because I enjoy romance. As if by reading romance I'm less of a reader because I'm not reading 'serious content'. We all enjoy reading different things and I don't judge people for reading books I don't personally enjoy. So shouldn't I and everyone else be given the same courtesy for loving romance.
I've even seen some people go as far as to say that people who read romances aren't and can't be dominate females or feminist. I'm not a weaker female because I enjoy the story lines with a damsel in distress who is rescued by a handsome buff man. I'm not ashamed to admit I enjoy male dominance in fiction. However, in my real life I'm equally as dominate in my relationship as my boyfriend. It's not fair that some people can't separate what I enjoy in fiction verses how I actually act and think in real life.
Another thing I've noticed is how unfairly people rate romances. On Goodreads, even though a person has said in their review that they really loved a book the highest rating they'll give it is three stars simply because it was a romance. If you loved a book enough to leave a review saying you loved it, give it more than three stars! It's as if there is some unspoken rule that a romance can't be given higher than a three star rating. When they definitely can be and deserve to be four or five star reads.
I know not everyone passes judgement onto those of us who read romance. There are tons more tolerant people in the world than there are judgmental assholes. I just wanted to voice some thoughts I've been having on romance and how it's viewed. I hope I made some kind of sense.
RECOMMENDATIONS
Speaking of romance, here are some of my favorite romantic reads.
Lick - Kylie Scott
Evelyn wakes up hung over in Vegas next to a handsome tattooed man with a massive diamond ring on her finger. Problem is she can't remember how she got there. This story is steamy and sweet. Full of consent and communication!
I don't know about you, but I've always had dreams of meeting my favorite rock star, falling in love, and getting married. It's going to happen!
I loved this story and can't wait to continue on reading the companion books.
All Lined Up - Cora Carmack
College Freshman Dallas Cole wants to stay as far away from football as possible, which is harder than it sounds since her dad is the universities head coach. It's even harder when she meets Carson, who she doesn't know is the team's second string quarterback. I'm a sucker for football romances. This story has just the right amount of tension, temptation, and build up. It's a slow burn, but definitely worth the wait.
Losing It - Cora Carmack
Bliss Edwards doesn't want to be a virgin anymore and decides
her best option is
a one-night stand. That is until her one-night stand turns out to be her new theatre professor. If you love forbidden romances with high stakes this is the book for you. It was the first new adult romance I've ever read so it holds a special place as my first. (How fitting for this story!) I can't wait to pick up more of Cora Carmack's books.
To All the Boys I've Loved Before - Jenny Han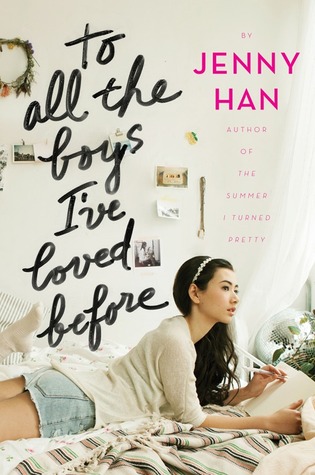 If new adult isn't your cup of tea, the To All the Boys I've Loved Before trilogy is my favorite YA romance. Lara Jean wrote love letters to all the boys she's loved before and one day those secret letters get sent out. This story is full of drama, love triangles, and bad teenage decisions. I loved the characters and the family dynamic in these stories. It can be over dramatic at times, but high school is dramatic, so it makes sense in this story. If you're one of the few people who haven't read this trilogy I highly recommend it. There is even a movie adaptation coming out this year!
Let's Chat!
Have you ever experienced any intolerance when it comes to reading romance? No worries, I won't judge you even if you think romance is silly. I think we could all be more kind to one another when it comes to what we enjoy reading.
Also, if you have any romance recommendations I'd love to know. I can never get enough romance!